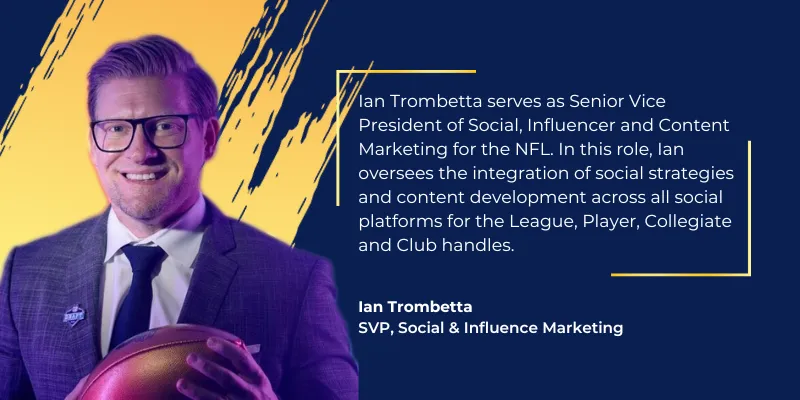 In this role Mr. Trombetta is also responsible for developing an entirely new Influencer Marketing Department with a mission of creating authentic initiatives which leverage the platform of the NFL to reach priority audiences. Over the past three years, the NFL has continued to modernize their approach particularly against GenZ, GenA and diverse audience segments through enhanced use of their ecosystem.
---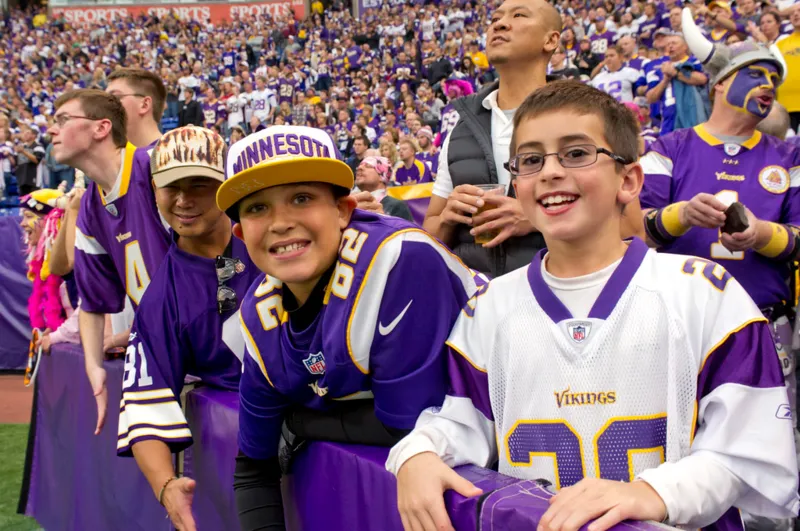 Q: What is your role and why is social an important part of your business?
In essence, my role encompasses overseeing all social media activities for the league, covering the league itself, the players, and the clubs. Additionally, we manage all forms of content, spanning from social content to advertising and beyond. Much of this content is channeled through our team, which comes to about 30,000 pieces of content per year.
We also oversee influencer marketing, a field that is increasingly transitioning into creator marketing. Needless to say, it's a fascinating realm to be a part of. The significance of social media is underscored by the fact that it predominantly attracts a younger demographic. Comparing our audience that watches games on TV to those engaging with our games and content on social media, there exists a 70/30 split in either direction.
On social media, 70% of our audience is below the age of 35. Social media is critical for us to build that next generation of fandom. So it's absolutely paramount that we're active across all the platforms and TikTok in particular.

Q: How do you think about using creators on the social platform?
Creators play an indispensable role in shaping our forward trajectory. When you consider every Key Performance Indicator (KPI) and tool at our disposal for the next decade, particularly concerning fan growth, creators and social platforms will form the core of these efforts. Our creator programs encompass a wide range of initiatives, spanning from stadium experiences to programs involving all 32 clubs.
Each of these clubs boasts its own creator program, which leads to weekly activations, fostering engagement not only among young boys but also among girls. This exposure to the game ignites the younger generation to play, and this is especially vital for us now, given the significance of flag football, and further, as we aim to scale the game internationally.
We know that the NFL is pretty dominant in the U.S. As we expand our ability to go to places like Mexico and Brazil, Europe, this is going to continue to play a more important role to expose the game on a variety of levels to our fans.
It's not just about on the field for us, it's also the ancillary pieces around the game. The lifestyle around the game is so important for us, and that's what we've really leaned into on some of the platforms like TikTok and YouTube and others to showcase the full breadth of the game and that football really starts and ends with communities. There's no better way to showcase that than through creators and through these social platforms.
Q: Could you tell us more about the NFL's content strategy in regards to the players and the game itself?
At the NFL, we're constantly trying to push positivity with our players and helping them build their brands. We're aiming to help our players reach their goals not only on the field but also in things they're interested in off the field, particularly regarding their community work, which is truly phenomenal.
This approach also extends to how we promote the game. Our content is designed to be entertaining, fun, and engaging for all ages. We strategize ways to activate on platforms in a manner that aligns with their unique characteristics, avoiding a one-size-fits-all approach. Instead, we thoughtfully approach each platform individually.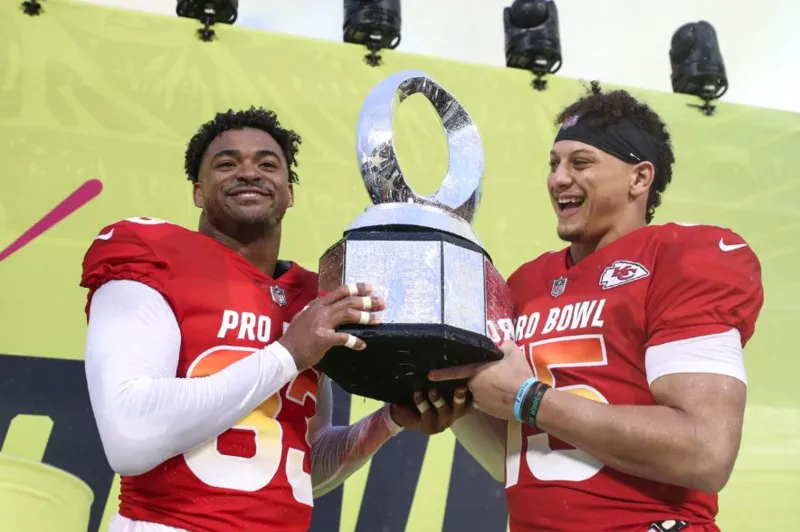 Q: How does the NFL leverage creators to enhance fan engagement?
We try to look at the players' interests, and once we understand what those player interests are, we map them back to our fan interests. Interestingly, those interests include gaming, music, fashion, and wellness. So, we examine these verticals and identify creators who excel and create content in those areas.
This approach takes us beyond solely creating content on the field. It allows us to collaborate with creators and players to create dynamic content that contributes to the expansion of the game.
We're also seeking ways to attract more casual fans to the lifestyle associated with football. That's another valuable way for us to leverage creators in these verticals. As you saw in our Super Bowl commercial, there was Mr. Beast. That was a strategically placed move to involve him. Utilizing creators like him to spark conversations around campaigns and important initiatives is equally important to us.

Q: Would you still recommend doing one social channel really well or diversifying your presence across all of them?
Obviously, the data plays a crucial role – your audience dictates your presence. Certain platforms are simply unavoidable. I would emphasize the necessity of being on platforms like TikTok; it's essential given the remarkable scale and growth we're witnessing
But in addition to that, do you have the right staff? And does your brand have the ability to flex with that tone of voice? If you look at the NFL on TikTok, our tone of voice is vastly different than it is anywhere else. The content you see features significantly fewer on-field highlights and instead showcases more personality-driven content.
I would use all the data that you can, but also ensure that you have real functional experts that know what they're doing and are constantly ingesting that content so they understand the trends that are happening that certain week, that certain day, because it's moving very, very quickly.
Q: How are you thinking about the concept of speed?
In our world, speed is everything. And we have to be accurate. It not only has to be fast because we're literally discussing free agent moves and head coaches coming and going, along with scores and in-game events – these are the aspects that occur in real-time.
However, accuracy remains a must. Therefore, we follow a triple-verified process. While we're engaged in posting on specific days, the volume can reach a couple of hundred posts per day. Undoubtedly, speed is critical – but it's imperative that it remains paired with accuracy.
Q: What's your strategy for Gen Z?
The stat that we frequently share with our internal stakeholders about Gen Z within the league is that they're 92% more likely to trust an influencer our creator on social media than a brand. And if you take that into account as you develop, in our case not just fans, but long-term consumers, you have to be active and authentic on each of the platforms you're engaged with. Considering the evolving landscape moving forward, its significance will only amplify in the years ahead.
Q: What will social media look like in the next 5 years?
Regardless of the technology that exists, you must be deeply rooted in the community and genuinely attentive to its needs. Being highly iterative is also crucial. We've been talking about real time marketing for a long time, but not actually practicing it.

---
Prior to joining the NFL, Mr. Trombetta served as the Global Vice President of Consumer Marketing at Activision Blizzard Inc. under the now-NFL CMO, Tim Ellis. Considered the "jack of all trades", Trombetta was responsible for overseeing Consumer Marketing, Digital/Social, Events, and Strategic Brand/Influencer Partnerships. Under Mr. Trombetta's leadership at Activision, they launched the #1 and #2 global console titles in 2017 - Call of Duty WWII and Destiny 2. Prior to Activision, Ian was the Head of Brand Marketing at Red Bull North America during record years in total volume and revenue growth.

---