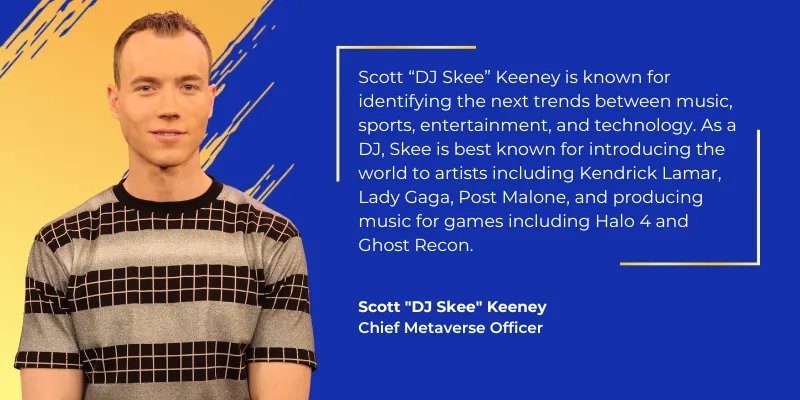 As Founder and CEO of DXSH, and Chief Metaverse Officer of TSX Entertainment, Skee is a thought leader in Web 3.0, co-authoring THE METAVERSE HANDBOOK published with Wiley. Skee has been honored with accolades including Billboard and Forbes "30 Under 30," as well as a mayoral proclamation in his hometown of St. Paul Minnesota, declaring May 26th "DJ Skee Day."
Skee has pioneered sports entertainment for multiple professional sports teams and leagues and can be seen DJing on field for the Minnesota Vikings, Twins, University Of Michigan Football, NASCAR, and Ice Cube's BIG3. In the collectible space, he is the face of ebay's trading card vertical, is an owner of the Cards & Coffee retail chain, a GP of the fund Mint10, and creates his own branded cards with Topps. Skee has generated over four billion views and has a network of over two million followers.
Below, Skee gives his take on where entertainment and live events are headed next!
---
Experiential has become more valuable than ever to brands and consumers. The pandemic both opened our eyes to the opportunity in the virtual event space and made us truly appreciate the value physical interaction brings to consumers — and us as human beings! We have entered a drastically changed landscape.
What did we learn from the pandemic about entertainment and live events?
There is no replacing the magic of physical experiences.
There is a massive opportunity to scale IRL (in real life) experiences to unlimited audiences.
Can't I just do a video stream of my event and call it a day?
No! It's called experiential for a reason; consumers want to feel, engage, and be involved. Let's take sports as an example: As a viewer today, the experience of watching a game on TV is far superior to being at the stadium in person, thanks to high-resolution cameras, replays, angles, interviews, commentary, statistics, etc. And that's before you even factor in weather, traffic, parking, and seat comfort! Despite that, people still pay lots of money and go out of their way to watch sports events in person. Why? They want more than just the passive viewer experience; they want to experience the feeling, the intensity, the belonging, and the hype of being there, as well as the communal experience of supporting their favorite team!
In other words, even with all the infrastructure sports broadcasts have in place, people still crave the experiential feeling of being there.
For non-sports events, capturing the excitement of a concert, party, or event does not come across through a screen. During the pandemic, we did over 500 live music streams on Dash. While it was exciting to broadcast from an artist's living room initially, the novelty quickly wore off, and historical trends on viewing concerts, parties, and other live experiences on video defaulted back to small audiences.
So again, no! A video stream is not enough to do an experience justice.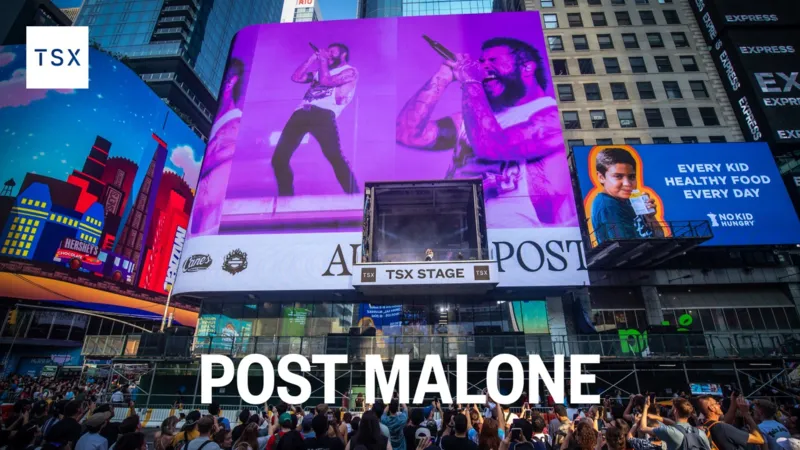 What are some good examples of this?
Coachella's Neon Carnival is the hottest event of Coachella, but it's limited to about 8,000 people in person. Through Roblox, we scaled the event and reached over 1M users in Paris Hilton's "Paris World" while also extending the collaboration with the event's head sponsor (Levi's) into Roblox. In the Roblox world, Paris Hilton's DJ set was brought in (she DJ'd live), we gave all attendees free Levi's / Paris collaboration clothes, put up signage around the virtual venue, and mirrored the look of the physical activation.
While the increase from 8k to 1M attendees proves the vast opportunity and value of going beyond the in-person experience — and essentially makes virtual extensions a no-brainer decision for brands — it's also essential to keep in mind that this was primarily made possible because of the credibility of the original in-person event. I.e., the synergies between the virtual and in-person aspects are essential.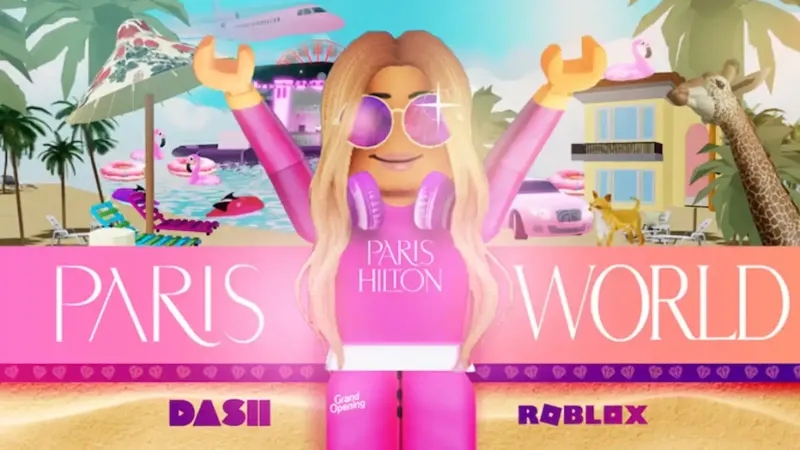 How do I get started, and what should I avoid?
Jump in! Think through the strengths and weaknesses of your existing event structure and how those could be tied into (or improved through) a virtual experience, and start experimenting with something small. A virtual extension of your event doesn't need to focus on the event itself; it could revolve around something leading up to the event or act as an after-event addition to keep the momentum going.
Beyond simply broadcasting a live video/recording of the event, make sure it feels thought-through and authentic for your event and the audience you're targeting; don't make it seem forced — even if you keep it at a small scale.
Similarly, make sure you create experiences that feel authentic to the platforms themselves, and consider tapping into the existing communities on those platforms! For platforms that have been around for a while (such as Roblox, Fortnite and to an extent Meta Quest), there are many past examples of successful activations and virtual event extensions that can be helpful to use as reference points as you brainstorm.
I also suggest not getting caught up in the hype around new trends and platforms that you don't believe in or see actual value in the long term. During the Web3 hype cycle, metaverse became a trendy buzzword, with multiple platforms selling virtual land for ridiculous amounts despite having minimal users (or even pre-launch!). Dig in and see what makes sense to you and your audience. If it isn't fun, they will go somewhere else. Just because others are doing it (or there is significant money behind it) doesn't mean you need to! Explore cautiously.
Virtual worlds can feel void. How do we avoid this?
There are multiple ways to keep your virtual experiences active and engaging:
Many platforms can provide AI-driven players (often known as NPCs) and AI-driven chat functions to engage with the actual audience.
You can intentionally create a more minor and limited-user experience (and market it that way) to create a sense of intimacy and urgency. Many platforms are better optimized for smaller experiences because of server/technical capabilities.
In some situations, a virtual experience can feel void because the server/technology can't handle many users, in which case you can consider platforms such as Improbable's M², a more recent platform intended for larger-scale experiences.
Create incentives for people to join your virtual experience, whether it's a one-off incentive or an ongoing one.
Spread the word about your virtual experience just like you would for your in-person experience.
What platforms should I be paying attention to?
The more established ones, such as Roblox, Fortnite, and Minecraft are generally safer because there's much knowledge about what generally works and what doesn't. Remember that because more experiences have been created with those platforms over the years, it's increasingly important to find ways to differentiate yourself, and you need to see where your target demo is spending time (i.e., Roblox is VERY young!).
You can build your own experiences through tools such as Unity and Unreal Engine. These tend to be more technically advanced and, as a result, require a bit more investment from both a time and financial perspective — but they also lead to more impressive experiences without limitations that you can open to any demographic and build a much stronger foundation on without depending on support (or the continued success) of another platform.
From what I've personally seen, the upcoming Apple Vision Pro has the potential to be truly game-changing. There's not enough information to say what specific opportunities will connect with consumers. Still, it's something to watch and experiment with if you believe in the vision (pun intended) and want to build an early moat on what could be a game-changing platform.
Although Oculus and other VR platforms lack significant market penetration, they can benefit specific use cases, experiences, and audiences.
How do I measure success?
This often ties into the goal(s) you have for your event as a whole, your overall marketing strategy, and what strengths/weaknesses you're looking to address with your virtual experience concerning those goals. Suppose your goal with the virtual extension is to increase your overall customer engagement. In that case, you can measure the changes in your social media engagement, website visits, number of customer service inquiries, etc. Similarly, you'd want to look at your sales, conversion rates, and other standard metrics. To assess the experience, you can look at the total number of attendees and the average time spent within the experience and consider sending out a brief form to ask for their feedback explicitly; after all, the experience is meant to enhance their relationship with you.

Let's summarize this (or TLDR)!
In-person events aren't going anywhere, but well-planned virtual extensions of your event can drastically increase the outcome of your event and scale audience by significant multiples.
Virtual experiences need to be more than passive; a plain video stream alone doesn't work. Aim to create an extension of the feeling, belonging, and overall excitement that consumers get at in-person events.
Be strategic and intentional about your virtual experience. Think about your in-person event's goals, strengths, and weaknesses, who your target audience is, and how you can transfer and enhance that through a virtual experience — where there are no physical limitations!
Look online (e.g., through Google) for examples of past successful campaigns and experiences from relevant platforms (such as Roblox) to get the brainstorming going.
You don't have to start big — it's entirely up to you! Approach it with a concept and platform that makes the most sense for you, whether it's an experience before, for the event itself, or after the event.
Tie your virtual experience into your bigger-picture marketing plans, communication channels, and business goals; ensure it synergizes with your in-person event and business overall. But also have fun with it, experiment, and get feedback from your customers/users!
Footnote: While this blog post focuses a lot on creating a virtual experience as an extension of your currently existing in-person event, most of these concepts apply to standalone virtual experiences as well.