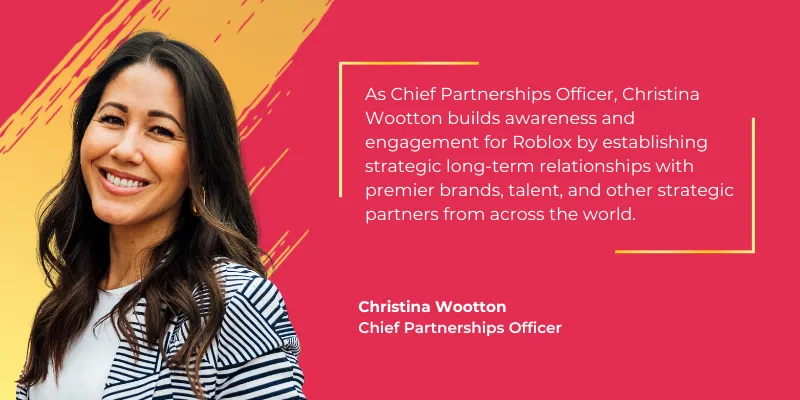 With more than 15 years of partnerships and digital advertising experience, Christina has been instrumental in revolutionizing how brands connect, engage and communicate with people all over the world in immersive spaces. She spearheaded innovation and creative partnerships with Fortune 500 companies and top brands and talent including Gucci, Nike, Netflix, Disney, Warner Bros, NFL, Karlie Kloss, and Elton John, among many others.
---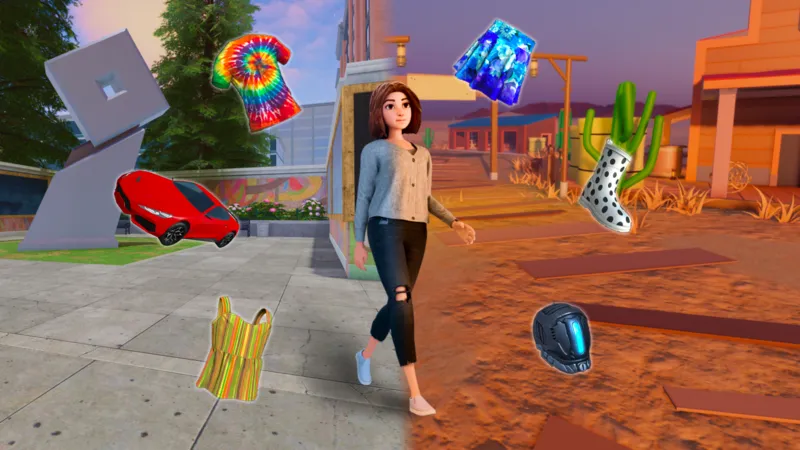 Q: How would you describe the concept of "The Metaverse" for those who are still trying to get their head around it?
I've been working with Roblox for approximately 12 years, officially at Roblox for almost a decade, and during this time, our platform has consistently provided a space where individuals gather, connect, and engage in shared activities within immersive 3D environments. So, when the term 'Metaverse' gained popularity, we didn't need to make significant changes. Our platform has always facilitated people from all corners of the globe coming together to communicate and interact with each other.
If anyone is on Roblox, or if you know someone who is, you'll likely be familiar with the way people come together on the platform. What you'll observe is that individuals gather, locate their friends, and then explore together millions of immersive experiences on the platform, all created by our community. Essentially, they 'go' there virtually. That's the essence of it all: forging connections and fostering communication within immersive 3D environments. These interactions can involve your existing friends or new people. You're meeting around things that you love to do.
So, I think that when people hear 'Metaverse,' sometimes they're just very confused about what that means, and also about what their goals should be. And when you think about it from the brand perspective, it's really about storytelling. It's about engaging your fans and creating communities around your brand, bringing your messages to life, inspiring people, and connecting with audiences in a way that you can't do anywhere else.
It's about how you inspire through storytelling and how you accomplish things that are impossible anywhere else.
Q: What would you say is the most important factor for brands entering the metaverse? Is it about monetizing from your current audiences and fans, or is it about nurturing the next generation of consumers?
It's really about building a community. You can be sure that long-term monetization will happen if you approach it correctly. But the real essence lies in understanding the platform you're entering, and that's the foremost consideration. Not every platform is the same, and the behaviors here are different. Many of the brands that find success on Roblox engage with the community, learn from them, ask numerous questions, and then collaborate. This collaboration comes across as incredibly authentic.
And then you build a fan base, you build community, and people - they start to become major brand advocates, and they start to talk about it all over the platform. So I would say monetization, if you do it right, will come, but it shouldn't be the main objective or the main thing you track right away. You have to give it time. You really have to give the community what is going to benefit them. And then, if you do it right, monetization will be there.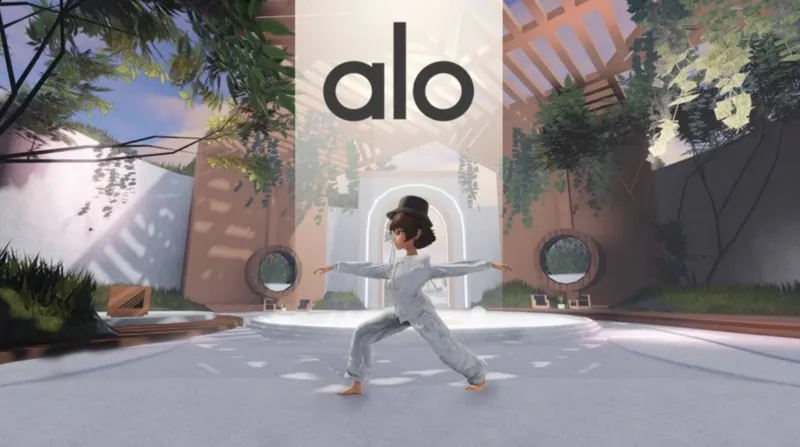 Q: What challenges do you foresee for a significant fashion brand transitioning from digital to physical clothing items, considering both production and distribution at scale?
People who join platforms like Roblox view their digital identity (or avatars) as an extension of themselves. I know that might sound crazy to anybody who hasn't used an avatar before, but when you're a digital native especially, that is how you express yourself. Sometimes, in the physical world, you cannot express yourself once you leave your bedroom or house.
What we've learned is that this platform provides a way for them to truly be themselves, express their individuality, and discover friends and a sense of community. In fact, we heard from Gen Z users active on Roblox that, for 2 in 5, their self-expression in the digtial world is more important than expressing themselves in the physical world.
Perhaps, in the physical world, you may not feel comfortable wearing something you love that's straight off the runway. But in a digital sense, you just make that decision within seconds—you just express yourself. So it's a major opportunity for one's self-expression.
Regarding the production cycle of physical goods, it takes a while to get feedback - and often it happens after the physical products are released, whereas with digital fashion items, you can get feedback instantly, before investing in physical production.
And that will help inform what you create in the physical world, also focusing on sustainability. So you could think about it almost as an innovation lab, like getting that feedback before you go into production, colors and designs.
We've already seen some of the brands utilizing this concept - for example, Carolina Herrera collaborating with Karlie Kloss' Fashion Klossette to get user votes for a perfume bottle, or Fenty Beauty empowering users to come up with the next Gloss Bomb product virtually to turn it into a physical product in the future.
Q: In what other ways can Roblox help solve real world problems?
When a brand comes to us, we always ask them bigger questions. We dive into why you actually want to enter this platform and what is so special that you want to share with the world.
Every day, we have over 65 million people from all over the world on our platform. We hold a responsibility to ensure that we are considering how anything affects them and how we can make things better. In the past, Roblox was often seen as a gaming platform exclusively for kids. However, in reality, it serves as a versatile platform for diverse interests and ages. More than that, it caters to all age groups, with over half of our audience being over 13 and 17-24 year-olds being our fastest growing demographic.
Especially during the pandemic, we started considering the amount of time people are spending on the platform, referring to it as a 'lifeline" for connecting and communicating with their social circle. We've received numerous letters from our users saying that apart from Roblox, they have limited ways to connect with their friends. So, we comprehended that they are dealing with significant struggles.
Our question was, how can we create environments where they can visit and cultivate a sense of well-being? An example is Alo Yoga; we spoke to Angelique (Former CMO of Alo Yoga) about bringing Alo House to the digital world. Alo House aimed to provide a space for people to meditate, practice yoga and spread awareness of wellness. Millions and millions of people started entering this space to meditate, either individually or with their parents and friends.
The feedback from the community was so strong, with many expressing their gratitude: 'Thank you so much. I'm struggling, really struggling. Having a serene space to come to and find calm, to drown out the noise alone, or connect with friends means a lot.' We're increasingly noticing that platforms, which include not just Roblox but also those that foster communal gatherings, have the ability to bring about positivity.
If there's something vital to your brand, don't hesitate to integrate it and spread that message, because we can help so many people. And I truly believe that this will shape the future.
---
As Chief Partnerships Officer at Roblox, Christina Wootton leads brand partnerships, business development and education. Christina's teams are focused on creating new ecosystems for people to express themselves through digital fashion and beauty, learn together, and experience entertainment, music and sports with their favorite brands and talent on the platform.
Prior to her 10+ years at Roblox, Ms. Wootton led entertainment innovation and digital advertising at Stardoll Media partnering with brands to create engaging content that allowed users to customize their avatars, shop for digital fashion items and interact with the brands' virtual characters and products.