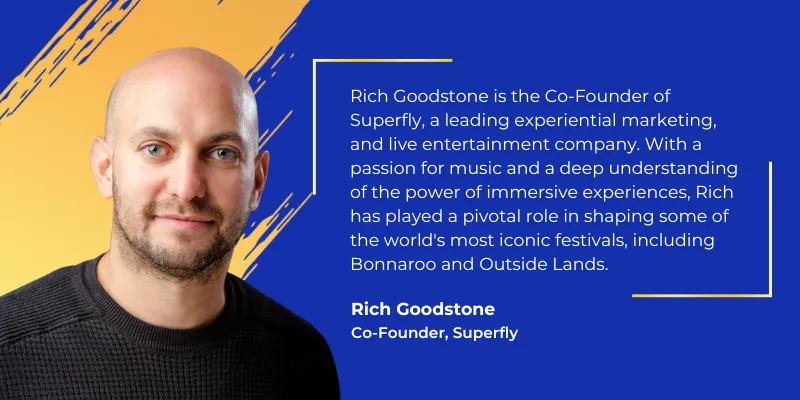 Over the course of his career, Rich Goodstone has established himself as a visionary leader in the music industry, with a keen ability to identify emerging trends and create innovative experiences that connect artists and fans in meaningful ways. At Superfly Rich has helped to redefine the way people experience live events while creating lasting memories for millions of people around the world.
Superfly created and launched Bonnaroo in 2002, taking its inspiration from European mega-festivals and destination Phish concerts to create the template for the modern American music festival. Since then it has gone on to become the go-to destination for musicians and brands looking to create iconic cultural moments and experiences. Most recently, Superfly was named one of Fast Company's Most Innovative Companies for 2023.
We sat down with Rich to discuss how Superfly utilizes innovative Web3 technology and NFTs to build community and organize IRL events and festivals.

Q: How does Web 3 relate to your business?
So, we're a brand experience company. We do a lot of things across that space for brands, creating new IP for ourselves, licensing A+ television, film and music properties. But I think the world of Web 3 and NFTs, for us, really opened up our eyes to new models that can be created within the brand experience space.
We recently created a festival community called SuperFest. And it's really Web 3 enabled in the sense that we're going to build the first music festival WITH our audience. And the kind of functionality that NFTs and tokens provide has never been available to us before.
We've often said we'll put things out into the world, and when we get people to interact with us and with this new model and the tools and the technology that NFTs provide, now we're able to actually collaborate and have our audience make decisions with us and create with us. And that's really empowering and something in theory, that we've really been waiting for, for 20-plus years to have the ability to do something like this.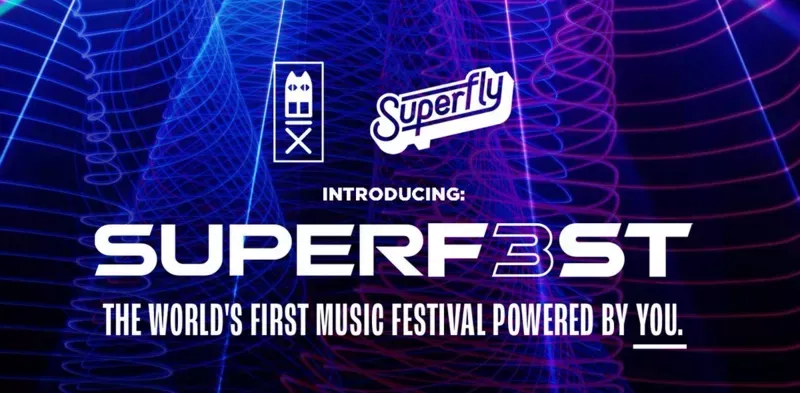 Q: What problem is Web 3 solving for you, if any?
Not to get too deep into the world of creating festivals, but there's a general inherent risk in building these things. You're basically financing a festival: you've got talent, you've got the infrastructure, you've got all these things. And at the end of the day, you're kind of gambling on how many people are going to show up. So the ability to create a community that is Web 3 enabled kind of turns the entire business model around.
What we would do is build a festival and then a community kind of develops around it over time, whether that be Bonnaroo, Outside Lands, or anything else. Now we can build a festival community online, with the tools of an NFT or a token and THEN build the festival to celebrate the community.
So it's almost like flipping the model on its head, but also it helps us on the risk profile because now we can get people to kind of build with us, to be a part of the subcommittees that make decisions on these things and ultimately, hopefully, mitigate some of the risks that are inherent in the festival world.
Q: So how can brands get involved?
As it relates to our businesses and what we're looking to do, we think of these as multiple channel brands, right? Live experience happens in a particular location, but really the largest audience is always outside of that physical location. So the ability for brands to kind of draft off the DNA of the IP that we create is available in multiple fashions and weaving its way into the storyline lines and the experience itself.
And I think when we think about coming together for a seminal signature moment, there is always a steady drumbeat of experiences that happen throughout, right? So one of the key aspects in why we love this new world of ownership economy is that that NFT signal is so much more than just your ticket into the event. It can be a voting option. It could tie to the partnerships that we have with brands. It's a membership, so to speak.
And people, instead of renting that membership via paying a yearly fee or whatever, you now have some sort of a stake in the game and of course are now an ambassador to the project. So I think the idea of opportunity for brands in general within the music space is similar to any other space in that you have the ability to build a community, a membership program, a loyalty program, whatever it might be.
But with the things that WE do, you're drafting off of someone else's equity, right? It ties into a larger connection to people and their passions. Because everything that we do is really building communities around shared passions and of course, all of these passions don't live in silos. And that cross-pollination, I think, is probably one of our superpowers. Because it might be about music in one location, but there's comedy, there's food, and how you kind of deal with all those touchpoints and create value around it.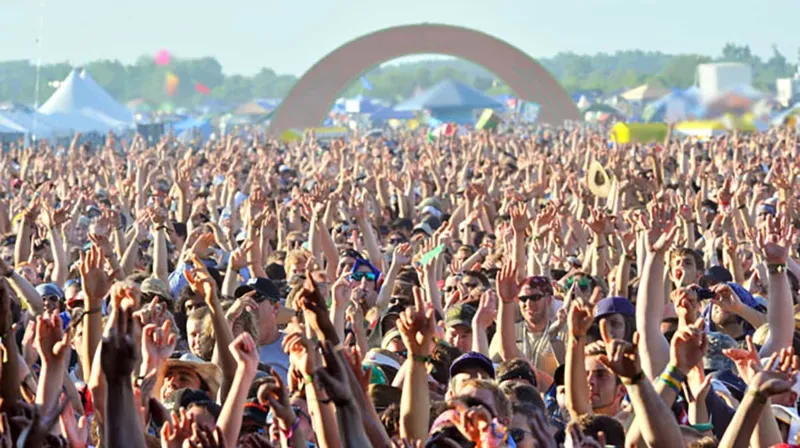 Q: Where do you think this market is going to head in the next five years? You've hinted that you feel like it will be entirely ubiquitous...
Yeah, I think that's right. We were pretty early to fan clubs around our music festivals, and I remember some of the early platforms and the way they would engage with all sorts of offers. And this idea that you can kind of own and then sell is just an amazing advancement in technology, and I think ultimately [the value is] that frictionless ability to utilize it as a technology.
I'm personally into NFTs because I'm into collectibles. I've been into physical collectibles, sports cards, comics - I believe in the value of culture. And I think that most people who are into collectibles believe in that value, but there hasn't been that much value placed on culture. And the idea that old comics or jerseys or cards can have value, well, obviously that's similar to artwork - and it's similar to digital artwork.
Most of the people that are early are really utilizing it for that particular purpose. And I think that the utility will ultimately be way bigger in the future, which is where we've started our project. Our artwork may be cool and there may be rarity and value to the things that we do from an art perspective, but it's really going to be about the community and the value that we can provide by being a part of that community.
And I think 90% of the projects are going to be tied to not the cultural side and the collectible side, but to a lot of things that push brands forward and that allow people to connect and build communities in a much more deeper way on an ongoing basis.
---
Rich Goodstone is the co-founder of Superfly, a leading experiential marketing, and live entertainment company. With a passion for music and a deep understanding of the power of immersive experiences, Rich has played a pivotal role in shaping some of the world's most iconic festivals, including Bonnaroo and Outside Lands.