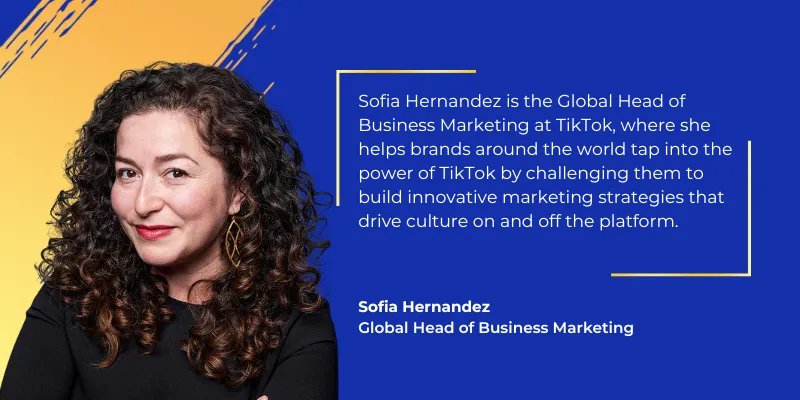 With over 18 years leading some of the most iconic global marketing campaigns for Fortune 500 companies including P&G, J&J, Netflix and Spotify, Sofia's passion for people and what makes them tick continues to fuel her keen understanding of how to drive successful connections between brands and the people that love them.
---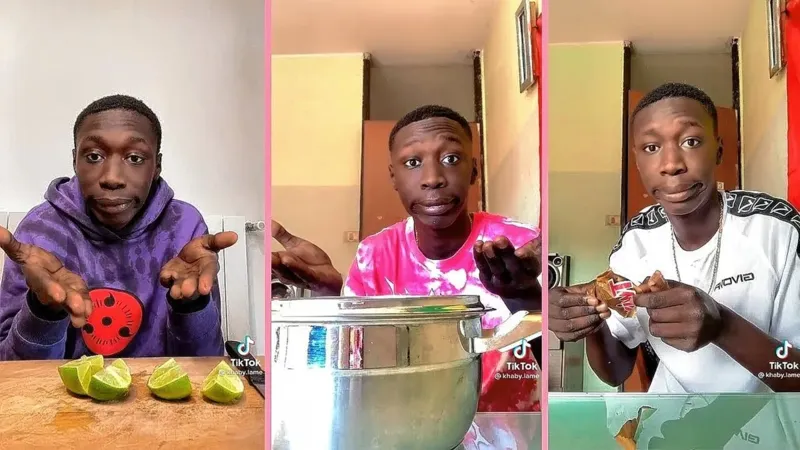 Q: Describe your role at TikTok and why social media is so important to you in today's world.
I lead global business marketing here at TikTok which means I have helped educate marketers, agencies and partners on the 'what, why and how' of TikTok. The significance of social media is twofold for me – both personally and professionally. On a personal note, platforms like TikTok empower individuals who might not typically have a platform to express themselves. This has created a space where underrepresented voices can shine.
Take Khaby Lame as an example. I'm sure you're familiar with Khaby – a black man from northern Italy who worked in a factory. He's now the highest-paid creator in the space. Platforms like TikTok can elevate creators from a professional perspective.
TikTok is not social media, it's short form video entertainment. You don't check TikTok, you watch TikTok. Brands have an opportunity to be a part of the realness and authenticity that exists within consumer and user communities. This is building brand love and driving purchase. When brands do it right on this platform, they're showing up just like creators – just like you and I – and I love it.
Q: What are the challenges faced by brands when attempting to seamlessly integrate themselves into content?
TikTok really brought storytelling and creativity back into our lives as marketers. We had gotten far down the path of performance and making creative content in a formulaic way. For example, social assets typically followed a strict format. Format X should be this number of minutes long with this character count, etc.
TikTok is really pushing marketers to rethink how they're connecting with their audiences -similar to how creators connect with theirs. This requires brands to do something that most are uncomfortable with, which is putting your brand in the hands of consumers and communities.
And, you know, brands have invested a lot of time and money building robust brand guidelines that make us marketers and our legal teams feel very safe. And then here comes a platform, and really the community that fuels the platform, asking brands to be less buttoned up and more real. It's scary. It's new. It takes courage and a new set of operating practices internally. This behavior shift is what I've spent the last 3 years partnering with brands on.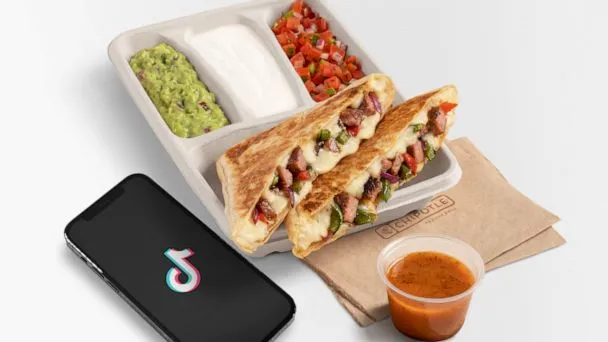 Q: What's an example of a brand that has succeeded in effectively integrating into the community?
The first brand that pops into my head is Chipotle. They have leaned into the ethos of the TikTok community and have really mastered the creative best practices. Chipotle's number one viewed TikTok is basically shot on an iPhone featuring super grainy, behind the scenes footage of an employee making the famous cilantro rice. This is one of their staple items that everyone loves.
If you come from a marketing background in the food industry, you would never do that, right? Everything would have been highly stylized. The rice would be perfectly fluffy, brilliantly white with the freshest bits of cilantro sprinkled throughout.
And here comes a food brand, that shared a video with millions of people without any of that! And guess what? The community responded. They loved that realness and authenticity, they loved the peek behind the curtain and they felt more connected to Chipotle than ever. So I guess my big push to brands right now is to step into discomfort and get comfortable with really putting yourself in this space.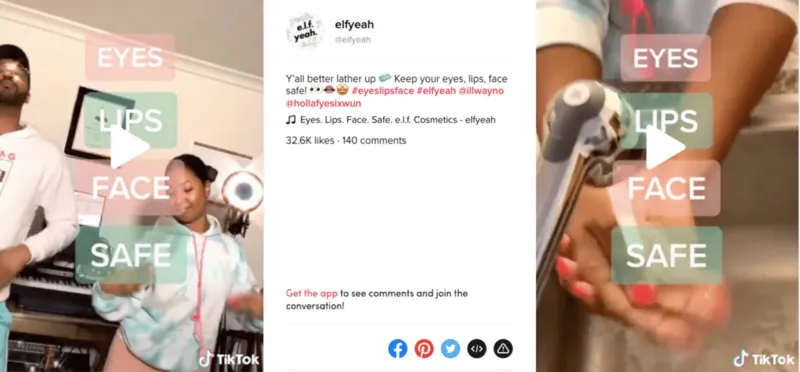 Q: Would you still recommend doing one social channel really well or having a little bit of presence on all of them?
As a marketer I value a great and diversified media mix rooted in audience insights. Obviously, I love TikTok and can share tons of data that points to a TikTok first approach - in fact we have a study that shows if you make for TikTok the creative asset performs really well on other platforms. Ultimately the key is to make things that feel native to the platform they're featured on especially when making TikToks.
Q: How do we help the people who aren't embracing the social landscape? How do we shepherd them into embracing it more and letting go of their brand, the way they've positioned it and done things in the past?
As marketers we must be both students and participants in culture. If you're a marketer who is not actually on TikTok then how can you truly evaluate the ideas your team and agency ecosystem are bringing you? How can you really understand the evolution of creators and their connections with the communities they've built through the platform? And how can you ultimately have a vision around how your brand can be a part of this incredibly inspiring movement?
So the first thing I would do is just push people to experience TikTok or any other platform/experience first hand. There's an incredible amount of education, inspiration and consumer insight you can gain by experiencing what makes this such a special place. Your brand is being talked about on TikTok whether you're controlling the narrative or not.
Kory Marchisotto from e.l.f. Cosmetics tells me that she reads hundreds of comments a day - and that's what we should ALL be doing as marketers. There's a high level of engagement in our comments section where people and creators interact and inspire each other. Chipotle just created a new menu item because the community was sharing hacks for various menu items. In other words, they're present and they're listening.
You have to be in there. You have to be listening. You have to be on the platform to really get it.
---
Prior to TikTok, Sofia Hernandez was the Chief Client Officer at consumer insights platform Suzy where she was responsible for driving revenue retention and growth, informing the product roadmap, and ensuring the entire company was rooted in a 'customer first' approach.
An activist at her core, Sofia recognizes her role as part of the 1% of Latina Executives in Tech and is committed to fostering inclusion in the tech industry by incorporating DEI into everything she touches--from a company's hiring practices to its advertising.