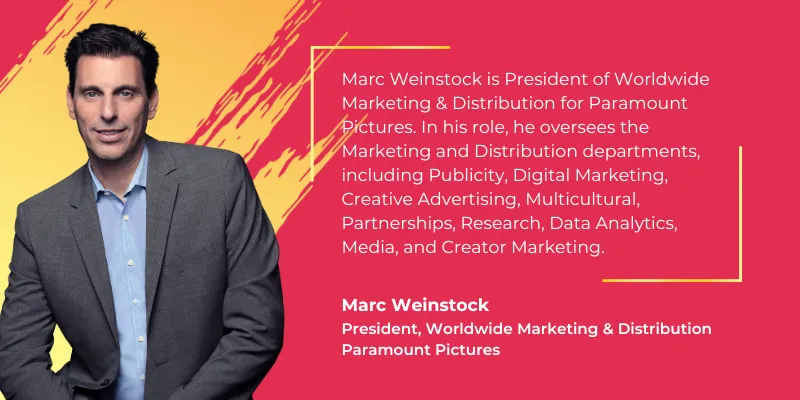 During his tenure at Paramount Pictures, Weinstock has been instrumental in the marketing campaigns for a number of hit films, including a remarkable string of #1 hits in 2022 alone: "Scream," "Jackass Forever," "The Lost City," "Sonic the Hedgehog 2," "Top Gun: Maverick," and "Smile".

Marc shared his insights on achieving balance in his personal and professional life amidst the changes brought by the pandemic. He delved into his team's successful adaptation to the new work landscape, how he manages to stay calm amidst chaos, and the importance of celebrating successes and milestones along the way
Q: Can you tell us about your role?
I am responsible for running global marketing and distribution for Paramount Pictures, and my day-to-day job is managing marketing campaigns. We launch a movie every three to four weeks around the world. I am proud to say that our latest movie (Top Gun: Maverick) had a very successful day yesterday, receiving six Academy Award nominations, including Best Picture.
I have the best team in town, and we work tirelessly. Our job involves both putting out fires and starting new ones, but I mean that in a positive way. Despite the chaotic nature of the past few years, I see this as a time of innovation. COVID has expedited changes that were going to happen in two to three years and condensed them into two to three months.
This has been positive for us because it has allowed us to eliminate things that were not useful or efficient. However, I would be remiss not to mention that we are still in the midst of a lot of chaos, and the ground is constantly shifting beneath our feet. Nonetheless, I love what I do, and if you don't love it, then you should consider doing something else.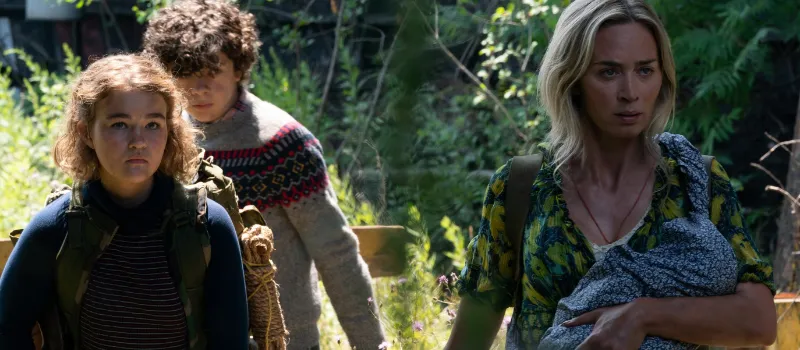 Q: What's the one best outcome of COVID and some of the accompanying chaos that you never could have predicted - either personally or professionally?
For family - amazing. With COVID we made sure we had dinner every night together and I have 3 boys so that's a big deal to be with my wife and my family.
Regarding work, the pandemic has forced us to do more with less and to innovate in ways we never thought possible. We were able to market entire movies from Zoom, which is something we never would have imagined doing before. For example, during the heart of the pandemic, we opened "A Quiet Place: Part II" and it grossed $60 million, which was a significant moment for us.
In short, COVID has stretched us to accomplish things we never thought we could, both personally and professionally.
Q: How do you find balance in your personal life?
Family is by far the most important thing in my life. And it was out of balance, you know, pre-COVID. It was just out of balance - it was 90% work and 10% family. And you take stuff for granted. And then COVID said, 'Wait, you're missing so much'. And it's like, 'Wow, this is great'. And then when we started going back, I'm like, wait, I'm being torn between I love my job, but I love my family and I don't have 120% of me. I only have 100%.
And so you start making those decisions and you know, Oh, you got to go to this event that your kids going to be in. It's the one that you got to go. Yeah, but I have this big meeting and the priorities get all out of whack. So for me, it's really the balance of putting family first.
And we have shown that we can work in any situation, on any Zoom, and on any call. If you have a team that supports you, you can do almost anything. So for me, it's really the balance. And one small example of how I deal with that is when I get home from work, I'm in my car for a good 10 to 15 minutes finishing up my stuff.
I will not bring that into the house because nothing is worse than walking in and you're on your phone. Your kids haven't seen you all day and even the dog is like 'Play with me!' And so I will finish what I'm doing first. I'm not bringing it into the house because you just can't, they've been waiting. They look to you, and if you're on your phone and you're dealing with work they'll subconsciously assume that's Dad's priority. So I really, really try to make an effort.
And then when they go to bed and stuff calms down, I can go back to my emails and figure that out. But when I walk into my home after not being there all day, I'm 100% focused on my family.
Q: Is this something you've always done?
No! I think reorienting priorities just makes me better at my job because I'm so much more balanced and, it gives you a reason for what we do because I get to go home every night to that.
Q: What are your pointers on how you train your teams, and how you train your leadership to be able to balance both the doing and the thinking that's required to really stay innovative in a fast-paced environment?
We've definitely changed. For example, I'm no longer in our brainstorming sessions. And I think that's important so the team can really feel free to come up with anything. And we've done a lot of them and it's replaced a lot of standardized agenda-based meetings.
One big thing that we've done since COVID is having a daily meeting with all my direct reports. And that first hour we just cover everything: what's happening that day, what's going on, and then people are free to go do what they need to do as opposed to constantly checking in throughout the day.
I got to this because if people aren't free to brainstorm and think outside the box then we'll never get anywhere. I think that's important. And then the other thing - and I don't know if this exactly answers what you're asking - but I think to celebrate the little wins, I think it's really important for morale.
We had a really good year last year. And every time we open a movie big, we have a barbecue to celebrate. People were just like, wow, we usually don't do this. And it's just hard to get success, so when you have success, you have to celebrate it so people know what they're working for.

Marc Weinstock is the President of Worldwide Marketing & Distribution for Paramount Pictures. In his role, he oversees various departments, including Publicity, Digital Marketing, Creative Advertising, Multicultural, Partnerships, Research, Data Analytics, Media, and Creator Marketing.
During his tenure at Paramount Pictures, Weinstock has played an instrumental role in the marketing campaigns for numerous hit films, including a string of #1 hits in 2022 alone, such as "Scream," "Jackass Forever," "The Lost City," "Sonic the Hedgehog 2," "Top Gun: Maverick," and "Smile."