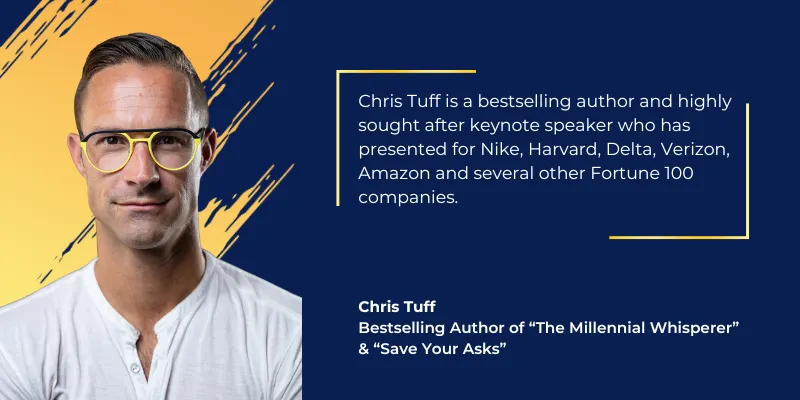 Chris Tuff began his career as a pioneer of the social media marketing space, becoming one of the first marketers to work directly with Facebook, helping them build many of their local-at-scale products for large brands.
Chris has interviewed some of the world's greatest executives and entrepreneurs and wants to equip today's leaders with the tools to become better salespeople and networkers through a focus on authenticity and connection. Below are his 5 Tips to Build Better Relationships.
---
NETWORKING. Even just the word makes people feel physically dirty, according to a study by Harvard Business School. Clearly, it's time to look at how we build business relationships through a different lens. I wrote the book Save Your Asks after years of watching, through my job as a partner for the ad agency 22squared, people go in for the ask way too early in the relationship.
We call those people "askholes."
What if, when we looked at networking, we instead focused on the only desired outcome being an authentic connection versus transaction? Suddenly, we build the relationships that lead to much more lucrative opportunities—as well as the confidence from having new, genuine friendships.
Here are 5 guaranteed ways to build the business relationships that matter:
Stand Out From The Crowd: Christie's auctioneer and author of The Most Powerful Woman Lydia Fenet, the famous auctioneer and author once told me, "5% of people you meet are actually memorable, so when you're in those networking environments remember to think long and hard about what stories you are telling and the questions that you asking." How can you be more authentic to who you are when meeting people? Your stories and your appearance are part of your "personal branding" which also pertains to how you express gratitude, often with small, thoughtful gifts. I take personal branding literally with tattoos that tell my life story—thanks to my good friend and tattoo artist Keoki along with bright yellow glasses that represent the light and optimism I hope to be in the world. I'm almost always wearing a pair of bright Jordan 1s. When someone does something for me instead of sending them an Amazon gift card I send them a pair of Jordan 1s in a design chosen to match their personality. (I highly recommend Giftology by John Ruhlin, which extensively covers the art of gift giving!).
Shawshank Your Prospects: As I learned from interviewing the world's most effective networkers, creating relationships is easy—it happens every single day. The hard part is sustaining and deepening those relationships. Just like Andy Defresne in "Shawshank Redemption," we must chip away at deepening relationships. Who are three people you're looking to deepen relationships with? Chip away with light and personal touch points on LinkedIn or Instagram with the goal of moving onto text messages and actual conversation. Those light touch points will quickly turn to deeper connections and more authentic relationships where you can get your "ask" to not even feel like an ask.
Send a Video Text Message: In my arsenal of tactics, the action of sending a short video text message to someone you've met is by far the fastest way to deepen relationships. I might be driving by a golf course and think of a friend who golfs or at a restaurant a new contact recommended—the moment someone comes to mind, I send them a quick video hello. This shows your enthusiasm, personality and excitement. It may sound awkward at first but you'll be surprised how many in turn will send the same. When you're messaging back and forth on Instagram or Linkedin messages, send a video. Watch what happens. You will shorten the time it takes to get to an authentic connection!
Don't be an Askhole: How often is it that someone sends you a Linkedin request and upon accepting it, nanoseconds later you have a message from that person trying to sell you on their stuff? Here's my rule: You get one ask out of anyone you meet or grow an authentic relationship with—do you really want to waste your one ask for them to buy your book? Or for free tickets to the baseball game? We must all save our asks and not be that askhole. We all have askholes in our network±the ones who come in with 3 asks in a row. On the opposite side of what I call the "the ask continuum" it's just as important that we do not let the ask pass us by (people pleasers tend to fit over here).
Save Your Asks Like Braveheart: You know that scene in Braveheart where Mel Gibson is telling his army to "Hoooooooold, hoooooooold, HOLD"? The opposing army is just 10 yards away coming at full cantor on their horses when Mel Gibson finally yells "NOW!" This is how we must look at our asks or sales opportunities. Our relationships must be at such an authentic stage that the ask itself doesn't even feel like an ask. As you've built the relationship, as you've learned more about them as a person and their business leads you have the necessary data to go in and say "I know how I can help you," and the ask doesn't even feel like an ask!
---
Chris' first book, The Millennial Whisperer, is a USA Today bestseller. It explores the importance of empathy and relationships in the workplace, and equips leaders with tools to attract and retain young talent through genuine connection. His latest book, Save Your Asks, highlights real world examples of "askholes" and such sales techniques as "shawshanking," and focuses on connections outside of organizations.