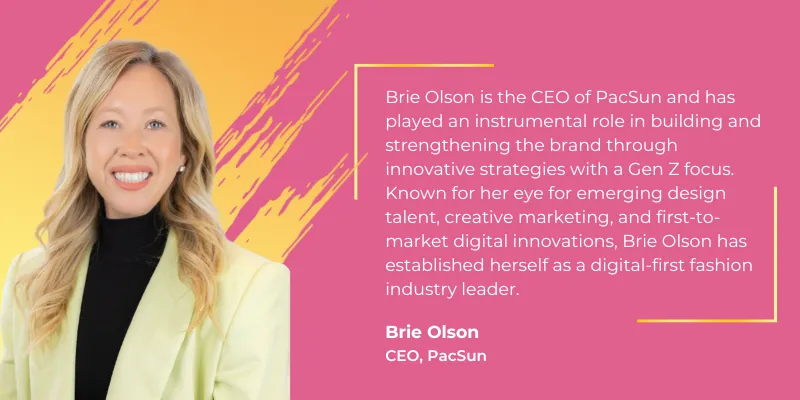 As CEO of PacSun, Ms. Olson has played an instrumental role in building and strengthening the youth retailer's brand through innovative strategies with a GenZ focus, including leading PacSun as the first retailer in its space to accept Bitpay.
PTTOW! Co-founder Jim Sullos sat down with Ms. Olson at the PTTOW! Next Summit to explore her insights on building strong teams, collaborating successfully, and creating a meaningful brand that matters.

---
Q: What are some of the skill sets you've acquired over time - or maybe that you're still developing - that have led to your success so far?
I think one of the things that I struggled with early on in my career is the concept of being vulnerable in leadership. I felt that leaders were supposed to lead in a certain way, and that leaning in or showing parts of your personal life or showing up as your full self at work wasn't the right way to advance in your career.
And I think as I've matured, I've spent more time - and quite frankly, went back to school in my forties - there were a lot of things that played into understanding that leadership in the end is being in service to your team. And it is the biggest lesson in terms of vulnerability. The more that you are vulnerable with your team and with your team members, the more you actually establish trust. That has been one of the biggest unlocks of my career and has really shaped how I lead.
I [also] really wanted to dedicate myself to also opening doors for other people and being much more inclusive and thoughtful in terms of how are you churning out the path for your future leaders and are you having the conversations? Are you talking about where they want to go in their careers unprompted?
Not in a mid-year or end-of-year review but are you having those consistent dialogues? You actually get to know the people that work for you, what their aspirations are, and how you can help them advance.
Q: What's the one major quality you have to have in a new hire when you're looking to build your team?
I look for humility and vulnerability in the end. It's not about a specific skill set. Usually, those things can be trained and most candidates coming through the pipeline have the general skill set. It's really about finding the right fit for the team. And it is more about the team win and the teamwork that goes into it, and that really comes down to character. And so hiring based on true character and getting to know people's true selves.
One of my favorite questions to ask in an interview is actually, Tell me about the hardest thing you've ever gone through in your life? And how did that shape you? Who was there to help you in that moment? Who did you lean on?
You learn so much from people in that setting. And I think if people are vulnerable to share those stories, that's a really good testament to how they're going to work in a team environment.
Q: Do you think this explains the longevity of - not only your team - but also your own tenure at PacSun?
I think there are a lot of great brands that you could choose to work for in the end. For me, the choice later in my career became about the team that I wanted to work for and the team that I wanted to build. And the majority of my team has worked with me for over ten years now. So it's been a long time and I'm going on my 16th year. I think there are always opportunities that will come up that are exciting and that you might want to explore, but it came back to these relationships that I had built and I really trusted my team. They become an extension of your community.
And I also chose PacSun in great part because what you can create and cultivate is very fluid. It's a dynamic business model, it's not static. So the reinvention of the brand every three to five years and now even more often in terms of tweaking - the fundamental core pieces stay the same - but tweaking the mix kind of feels like you always have new opportunities to grow. And I think as long as there's a constant growth mindset, you can stay at the same brand or organization.
You have a great team, you have a growth mindset. There's really no reason to leave.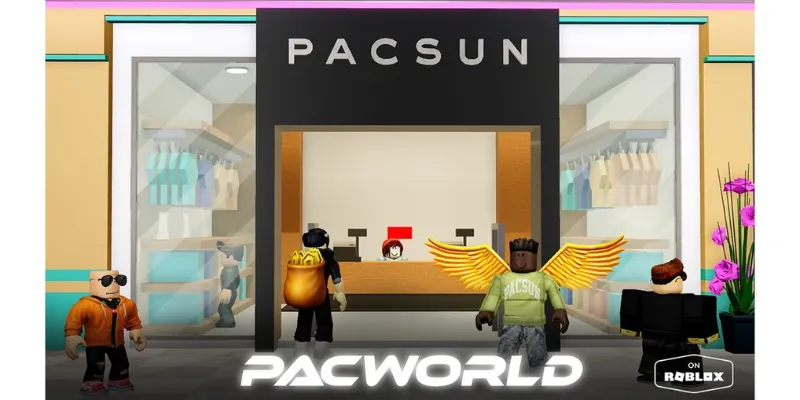 Q: Speaking of growth mindset, as consumer habits are shifting, you've been really great at meeting the consumer where they already are. Can you share more about how you are taking the mall to the metaverse?
I love innovation and creativity, and in the end, our brand is 100% consumer-led. So I really look at our customers as they're the cultural pioneers of the future and are leading the way. And as PacSun's leadership team, we need to be doing really good listening and we need to be in tune with how the culture is evolving.
The metaverse was something that we saw over the last decade, a huge push towards gaming, and gaming has gone beyond the game. It's really about the community and how kids are playing and interacting together. And then the metaverse, digital worlds, and digital exploration are so interesting because it actually goes back to our core principle, which is creativity, self-expression, and innovation at the intersection of cultures sports, art, and music.
And when people are engaging in the metaverse, there's a lot of choice in terms of how you want your avatar to work. And that can either lead to an identity crisis or as a brand it's our responsibility to guide you towards feeling good about your identity - in both the physical and virtual space. And there's a lot of responsibilities that are put on brands to kind of help charter that space.
I think we're very fortunate to work alongside Roblox as we built our own game packs on the game. We've also partnered with brand partners like Twitch and we all kind of work together as we're exploring this space simultaneously.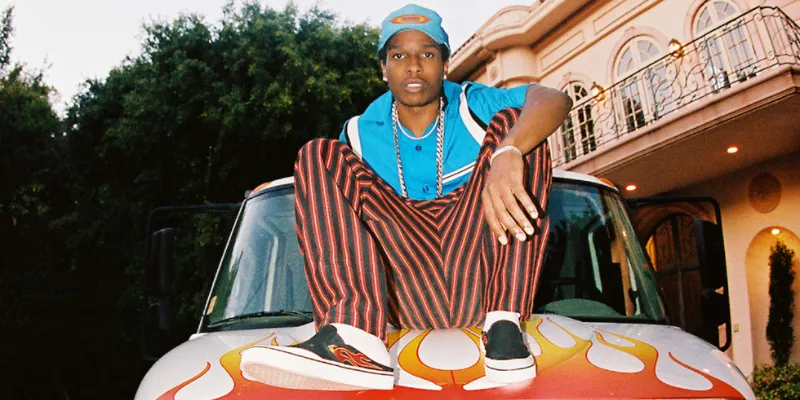 Q: How are you working with A$AP Rocky?
A$AP Rocky is a really incredible person. First and foremost, he's very dedicated to culture, community, and the youth, and I think the partnership with him is very natural because he loves PacSun. He has very fond memories of shopping there when he was younger and he wanted to bring his design and style of aesthetic combined with his music and his point of view on culture to a broader audience. So it was a really nice partnership and something that I felt was a real natural fit for us.
Another kind of "star" partnership that we're incredibly proud of is our partnership with Jerry Lorenzo. I met Jerry 11 or 12 years ago, and again, one of the kindest, most gentle, and humble people that I've probably ever come across. He is quite extraordinary.
So being able to build a brand alongside him and see his success and growth and also have him bring new audiences help to amplify our brand messages has been something that's been very special.
Q: Can you tell us more about the partnership with the LA Rams?
Our partnership with the L.A. Rams is very close to my heart. Over the last three or four years, we've really worked on building our community efforts together, and so for the third year, we're working from a philanthropic standpoint to address some of the L.A. community needs that were brought to our attention. I wasn't aware, but the number one reason that children aren't able to attend school is that they don't have clean clothes to wear.
When that was brought to our attention by the amazing marketing team at the LA Rams, it was something where PacSun could very quickly help and we could step in. And so, over the last few years, each year we donate $1,000,000 of clean new clothing to children in need in the Inglewood School District.
And so I've been evolving the partnership from what started as kind of, "hey, let's bring influencers and creators and have them amplify the voice and bring them to games quickly." I think with the two teams truly dedicated and focused - and this was really a synergy between what the community and social and marketing team on the L.A. Rams was focused on [and] what we wanted to do - and [we changed] it to do good for the community.
Q: There's so much depth to your brand. Your most popular TikTok revolves around Emma Chamberlain discussing mental health, which isn't necessarily what you would expect from a lifestyle brand. How does PacSun build a brand that matters?
I think in the end, our brand is really about what our audience cares about. And mental health is right at the very top of what they are talking about amongst themselves, what they care about, what the future is about. And so, PacSun, we don't need to exist to just sell clothes. There's a bunch of different retailers who would do that and some arguably better or worse, right?
So what we were really trying over the last ten years to build is a brand that means something and that stands for community and is at the intersection of what really matters to that generation. So it's been a really amazing ride.

Brie Olson has over two decades of experience in the retail industry, including 18 years at Pacsun, where she also serves as a member of the Pacsun Board of Directors. Ms. Olson has overseen the design and execution of multiple successful partnerships at Pacsun, including with The Metropolitan Museum of Art, Formula 1, Emma Chamberlain and Storm Reid, introduced Pacsun's first gender neutral collection, Colour Theory, and spearheaded Pacsun's entry into the Kids' category with Pacsun Kids.
Ms. Olson also leads the company's AI and metaverse initiatives, including activations on Roblox and the brand's partnership with the first known virtual influencer, Miquela. In 2022, Ms. Olson was named one of AdAge's Leading Women, one of Glossy's Top Marketers, and one of Brand Innovators' Top 100 Women in Brand Marketing.